Posts Tagged With Exit Realty Achieve
Long Island is Diner Heaven.
On Long Island, diners reign supreme. The late night meals, casual get togethers, early breakfast meetings often take place at one of the many Diners you can find on Long Island. The 24 hour food stops have something for everyone and can be found in nearly every hamlet or neighborhood. Every Long Islander has their favorite place to stop and will defend the awesomeness of that diner to the end. The Hauppauge Palace Diner is located at 525 Smithtown Bypass in Hauppauge and conveniently provides the opportunity of online ordering. The Millennium Diner is located at 156 East Main Street in Smithtown and is a local favorite. Another neighborhood spot is Premier Diner which is located at 690 Commack Road in Commack which is known for best-rated pancakes, burgers, sandwiches, coffee and pie, soups, Greek salads, coffee and traditional Greek dishes.
At EXIT Realty Achieve we work to bring you information on some of our local favorites as well as keep you current on all the real estate news for Smithtown and surrounding communities. It's a great time to sell a home as the market is just beginning to warm up and we have buyers looking. Inventory levels are low right now across the Smithtown area and we need more homes to show our buyers. Call us at 631-543-2009 or visit us at www.EXITRealtyAchieve.com
See more Smithtown information on our Smithtown FACEBOOK page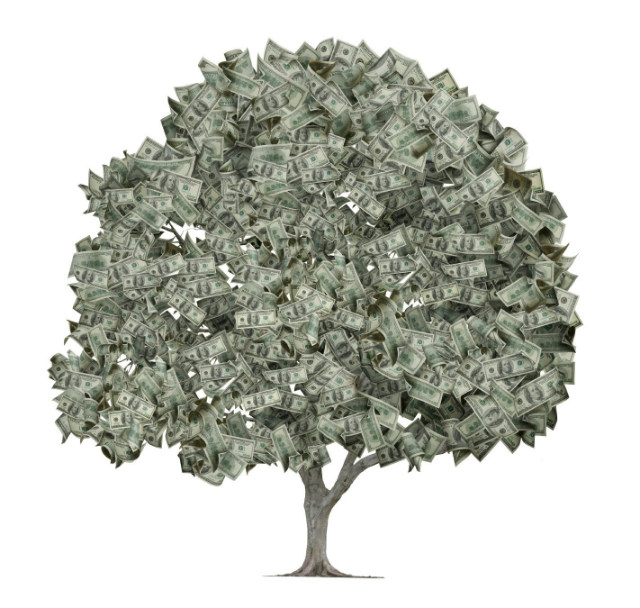 First Time Home Buyer Grants on Long Island are available now! Calling all FIRST TIME HOME BUYERS!!
Recently, we brought in a Grant Specialist to the office of EXIT Realty Achieve. The Grant Specialist seems to have all the information on first time home buyer grants for Long Island. There are currently many different grants available. Grants are available on a limited basis and are first come first served. A few of the providers of the first time buyer grants are Community Housing Innovations and Long Island HousingPartnership.
Perhaps money does grow on trees.... for first time home buyers anyway! The grants do come with some restrictions. For example: the buyer may be required to own the home for a specific number of years or the buyers may not make more than a specific amount of money. A great piece of news is that some of the grants are stackable so you can get funding from several organizations at one time and this can add up to a sizeable amount of money. The grants can be used for down payment assistance but also in some cases for repairs on the new home.
First time home buyers interested in home buyer grants will generally be required to go to an educational class but the time invested will certainly pale in comparison to the benefit. Many lenders and realtors on Long Island are unaware of the First Time Home Buyer grant programs so make sure you choose the right professionals to work with. Our team at EXIT Realty Achieve is knowledgeable about First Time Buyer grants and will introduce you to our Grant Specialist and the mortgage lenders who can guide you through the process. Please call us at 631-543-2009 if you want information on buying a home with a grant in Smithtown or anywhere on Long Island.
This house has three bedrooms...however you will never be able to sleep. Enjoyed this short real estate video and thought it may put a smile on your face too.
https://www.youtube.com/watch?v=7xRJhP7MG00
As always, we are always glad to help so please call on us if you are looking for real estate assistance in Smithtown, NY or anywhere on Long Island.
EXIT Realty Achieve 631-543-2009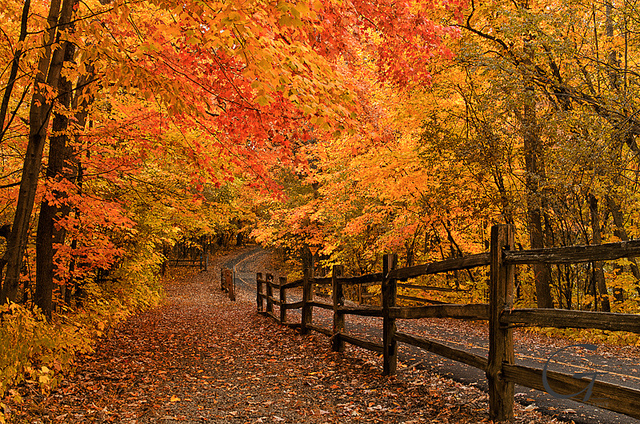 There are a handful of reasons why you should get off the fence and buy a home now.
Mortgage Rates have fallen to the lowest level since June 2013 and this gives you more buying power. The Mortgage Bankers Association reported Wednesday that the rate on the average 30-year fixed-rate loan fell to 4.2% last week, from 4.3% the week before. Rates stood as high as 4.72% at the beginning of the year. If you are thinking of buying anytime in the near future, you should take advantage of the great rates and lock in the potential to save over the long term.
Real Estate consistently outperforms other investments over time. Once again, people have spoken in this regard. The Gallup organization conducts an annual report entitled the Economy and Personal Finances Poll, which asks Americans to choose the best option for long-term investment. It was no surprise that real estate returned to the top position over other investment categories (gold, stocks/mutual funds, savings accounts/CDs and bonds). Plain and simple, real estate is just a great investment vehicle.
The Long Island housing market is still a little heavy on inventory which means there are more homes to choose from and pricing of homes may be somewhat flexible. Currently, there are 174 homes for sale in Smithtown with a median price of $475,000. Watch our market video for more information on the Smithtown market. Realtor.com reports an average selling price of $488,000.
Take advantage of the great opportunites in the marketplace today!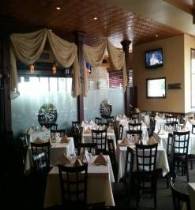 Long Island Restaurant Week
Special gourmet three-course prix fixe dinners for $27.95 at local participating restaurants
Long Island Restaurant Week is this Sunday November 2nd to Sunday November 9th. Some of the finest food on the East Coast is available in this bi-annual event. Each participating restaurant offers its own unique three-course prix fixe for $27.95 all night (except Saturday when it is offered only until 7 pm).
Inspiration for the first Long Island Restaurant Week in 2006 came from the Hamptons Restaurant Week, and its precursor, New York Restaurant Week. The campaign is presented by Long Island Restaurant & Hospitality Group. It is a bi-annual event, during the fall, between post-summer spending and pre-holiday saving, and in the spring, between warm weather getaways and summer barbecues. The campaigns, which span across the region's 118-miles from Garden City to Montauk, boast nearly 250 participants each fall and more than 160 during the spring. Many of these participating restaurants are in OUR neighborhood. Don't miss out!

www.longislandrestaurantweek.com
Free Restaurant Reservations at www.opentable.com
Commack | Italian
Northport | Contemporary American
Butera's Restaurant of Smithtown
Smithtown | Italian
Smithtown | Cuban
Smithtown | Seafood
St. James | Contemporary American
St. James | Italian
St. James | Italian
(Prices are per person; do not include beverage, tax or gratuity and Prix-fixe menu valid on Saturday until 7pm)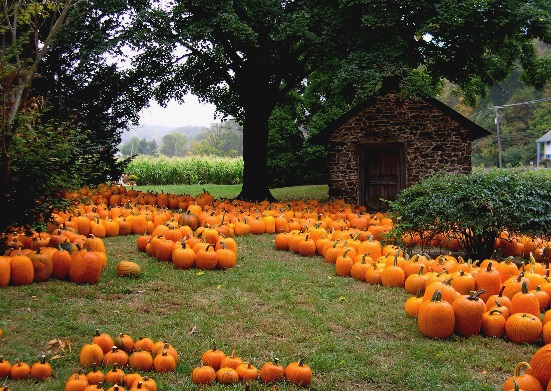 PUMPKIN PICKING, PARADE AND HALLOWEEN HAUNTS
The weekend will be here before you know it and we are supposed to have some beautiful fall weather in the Smithtown, Commack, St. James and Kings Park area. Are you looking for something to do? How about some Halloween fun? It's the last weekend to enjoy some of these fun Halloween / Fall festivities!
Pumpkin Picking (For-A-Cause)
Lucien United Methodist Church
109 Main Street, Kings Park NY 11754
9am until dark every day through the end of October
Saturdays ONLY from 10am – 12pm Pumpkin patch patrons get to take home a mold of their child's hand-print on a ceramic tile! Tiles are fired in a kiln overnight and are available the next day (Sunday).
*These pumpkins are grown on a 1,000 acre farm in New Mexico that is owned and operated by the Navajo Nation. The farm provides employment for the Navajo Nation who live in poverty. This fundraiser also gives the Navajo's a percentage of sales. Scouts, Church members, High School students and volunteers from the community come together to organize and run this fund raiser.
Halloween Spooktacular
Sweet-Briar nature center, 62 Eckernkamp Drive, Smithtown NY 631-979-6344
sweetbriarnc.org - October 24th and October 25th hours 7pm-9:30pm
Animal presentations, a ghostly garden, creepy crafts, scary stories and a night walk.
Two trails, one for ages 4-8 and the other for ages 8 and older (Admission $7)
Spooky Hollow, Spookville and Halloween Festival
Wicks Farm, 445 North Country rd., St. James
Phone 631-584-5727
Hours for festival 11am – 5pm (store open 9am-6pm)
Pumpkin Patch, Hayrides, Haunted Labyrinth and Haunted Hayride (call for admission$)
Saint James Halloween Parade
Parade Line up 12:30 p.m. October 26 at Capital One Bank, Woodlawn and Lake. Best costume prizes in many categories and goodies for all.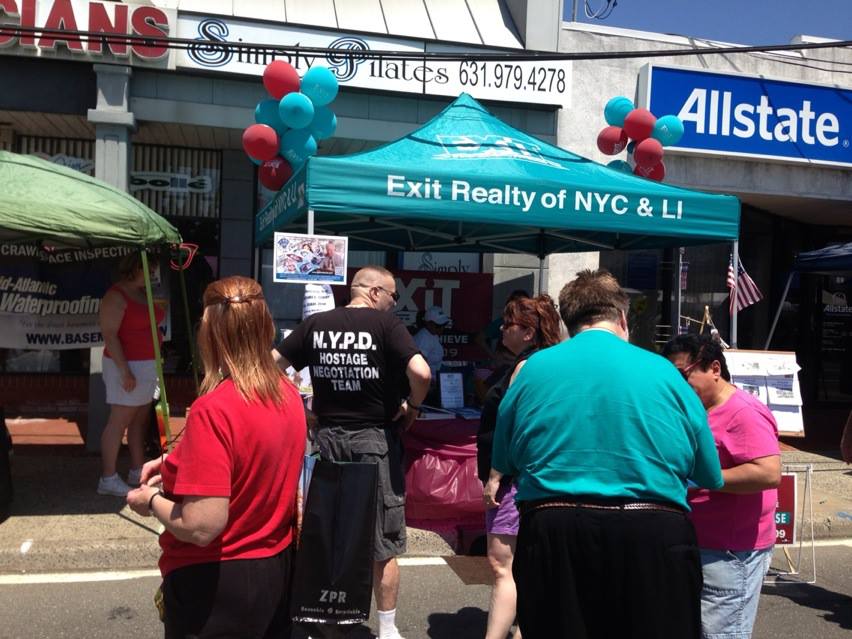 Smithtown Festival Day 2013
It was a warm sunny day and a great opportunity to connect with local business owners, service providers, arts and craft vendors and have some good old fashioned fun.
The weather was on our side on Sunday! The previous day in Smithtown was about 95 degrees so we were pleased with the 80 degree temperatures. There were opportunities for the kids to play on inflatibles, and for the family to dine on roasted corn, sausage and peppers and ice cream fantasies!
As a vendor, EXIT Realty Achieve of Smithtown, provided American flags to the attendees and free Charicature Sketches for the kids. We awarded one five day, four night cruise package to one lucky winner.
In an effort to bring value to the homeowners of Smithtown and surrounding communities, we provided local maket information and tips for making the home sale process a success. (Not all Real Estate agents are created equal).
EXIT Realty Achieve also highlighted markets and specific properties across the US where Smithtown residents may consider retiring to or investing in. There are some great buys in Phoenix, Denver, Atlanta and the Carolinas and we can help you with your real estate needs in those markets as well.
Making Good Neighbors in Smithtown, NY
Living next door to someone doesn't make you a neighbor. It makes you the stranger next door! One of the great opportunities we have in our communities is the chance to build real, meaningful relationships with the people who live closest to us.
While I understand the desire for privacy, and the busyness of the lives we lead, I think it's important we realize that regular, helpful communication with our neighbors makes us both safer and paves a smooth road for difficult conversations we might face with our neighbors in the future.
It doesn't take much to start off the right way. Consider leaving a nice note in their mailbox, a small "thank you" gift for looking out for the neighborhood, or some other "olive branch" act that will build rapport.
Small gestures such as a nice note about landscaping, an invitation to a potluck, or an "all hands on deck" community improvement project allow us to get to know our neighbors. This is vital when you consider the people around you are the most likely to spot smoke in a fire, clue you in to suspicious activity, and have the opportunity to share vital local information.
What's more, if you build a positive base with your neighbors, when the time comes to have a difficult conversation (such as a nuisance dog or kids running amok), you'll have a buffer of mutual respect and goodwill to draw on.
If your opening conversation with a neighbor is a complaint, you're setting yourself up for a long, antagonistic relationship. Who wants to live next to that?
I think a civil community depends upon our connection to our neighbors. We all benefit when we depend on and trust one another. All that being said, Smithtown, New York is filled with great neighborhoods, local eateries, friendly dog parks and community events where the "neighbors" can all connect.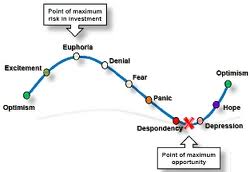 Real Estate Investing in Smithtown NY
The real estate market is in fact cyclical. There are highs and there are lows. Then there are highs and there are lows all over again. The pattern is predictable. And just as much as we feel the pain of the low and could have forewarned of it from past historical trends, we can look with optimism towards the future.
By now surely you realize the market is down, inventory is plenty and sellers feel the pain. We are on the low point in the graph. But take a moment and look ahead to the future by taking a look at the past trends. After the low point on the graph, the market begins to climb, buyers enter the game in masses, home prices rise dramatically and inventory declines quickly. Once again the pattern is predictable.
So, that being said, what does this mean to you as a possible real estate investor? It means that if you want to buy a second home as an investment then your optimum time is NOW! We have established already that we are on the low point on the graph, inventory is plenty and we know the market will cycle back. So at a time when your other investments are at best shaky why not consider a long range strategy of investing in real estate? Owning just one or two rental properties can dramatically change your long range financial picture. Why not let someone else (in the form of a tenant) contribute to your wealth?
My conclusion is this... at the current time in the Real Estate market, the opportunity to make strong, lucrative investments is booming! Mortgage rates & home prices are low, making this the perfect time to cross over into real estate investing. Here, at EXIT Realty Achieve we offer a free four hour investment course that provides prospective investors with information on market trends, positive investment strategies and how to gain the most wealth from an affordable property.
At this current time in the Real Estate market, the opportunity to make strong, lucrative investments is booming! Mortgage rates & home prices are low, making this the perfect time to buy and invest! In an ever-changing market, buying a home as a long range investment is a great way to build wealth. Here at EXIT Realty Achieve we offer a free investment course that provides prospective investors with information on market trends, positive investment strategies and how to gain the most wealth from an affordable property. If you are interested in the plethora of Smithtown Investment properties available, we invite you to try our Free Investment Course!
EXIT Realty Achieve
956 W Jericho Turnpike
Smithtown, NY 11787
631-543-2009
Susan Hamblen
How have home prices been impacted in Suffolk County, NY? This information is courtesy of the New York State Association of Realtors.
SUFFOLK County, NY
Median Home Prices
2009 2010 2011 Percentage change
09 -10 10 – 11 09 - 11
$330,000 $325,000 $315,000 -1.5 -3.1 -4.5
We currently have 2,357 homes listed in the mls in a short sale status across Suffolk county and a large amount of shadow inventory still coming. However in NY state as a whole it takes 901 days on average for a foreclosure to take place so there is still some time before we are flooded with the distressed properties.
The good news is this....if you are a selling and price your home just below market it will sell and sell quickly. Buyers are out there and homes are selling but they must be priced to move! If you are a buyer...your good news is this....you have a great amount of inventory to choose from and interests rates are still historically low.
Call EXIT Realty Achieve at 631-543-2009. We are here to help!!
Older Posts